10,000 Reasons
We were approached by two cancer surviving sisters to help with the creation of a meaningful logo and jersey design for an upcoming charity bike race they and their family were participating in known as Pedal the Cause. Pedal the Cause is an annual event where thousands of people gather together to ride in support of those fighting cancer, survivors, and their families – with 100% of proceeds going towards cancer research. This was one project we weren't going to pass up!
Everyone has reasons
10,000 Reasons was a name chosen by the sisters to represent the many reasons they and others have to be thankful. The colors green and navy were chosen because they were representative colors of the cancers the two sisters defeated, as well as purple, the color representing all cancer. After playing with several options, we ultimately landed on a logo that clearly stated the name while also integrated a simple bicycle. We created a custom font for the '10,000' and used the zeros as tires for the bike. We paired the number with a typeface that was solid and legible. As a subtle element, we used a heart shape as the negative space in the 'O' to symbolize thankfulness and to represent the sister's father who lost his battle with cancer in 2003.
"We were so fortunate to be able to work with a great group of people at Leverage to create a logo and jersey design for our new Pedal the Cause team. Not only are they talented and easy to work with, but they coordinated directly with the apparel company to ensure the work was done according to their exact specifications. They also showed a tremendous amount of support for a cause that is near and dear to our hearts. Thanks, Leverage, for a job well done!"
Team Co-Captain
10,000 Reasons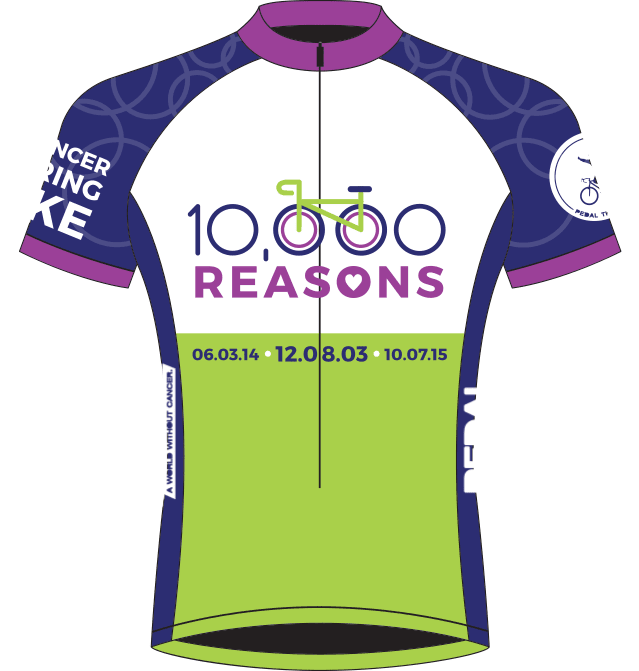 Ready to ride
We had a lot of fun designing the jersey for the team. We put the logo front and center on a white background so it would really stand out. We then used green, navy, and purple color blocks to create the rest of the design with an overlapping circular pattern on the sleeves to add some dimension. We also included dates that were important to the sisters across the front, beneath the logo. The final product was a finalist in the event's jersey design contest.