Nestlé Purina Digital Summit
We've partnered with Nestlé Purina to support them for their annual Digital Summit – a marketing conference held in St. Louis that brings together brand teams and agency partners from around the globe for a day of inspiring speakers. The most recent theme was all about personalizing the consumer experience. With this theme in mind, we helped bring the event to life through strategy and branding – starting with an experience deck outlining the day, to a logo, app, website, email communications, signage, speaker videos, snapchat filters, swag, and much more.
Let's get personal
With the event taking place at Ballpark Village – it was important to keep the day feeling lively and energetic to fit with the feel of the space. We chose a vibrant color palette and used an abstract thumbprint shape to add texture and align with theme. We not only worked the theme into the website design visually, but also functionally by creating a highly visual and interactive registration form that collected key data points about each attendee, allowing us to personalize their event experience.
"Oh. My. Gosh! THANK YOU from the bottom of my heart for all of the amazing work you put into making this Summit an incredible success! We have all gotten so much wonderful feedback on how great it was, and we could NEVER have done it without aLL of you! I can't tell you how much we appreciate and value your creative inspiration, your incredible ability to organize the madness, and your unending patience. But mostly...your friendship and commitment to our success. You are THE BEST! REALLY AND TRULY! I know I speak for all of us when I say – THANK YOU my dear friends...THANK YOU!"
CRM Center of Excellence, Digital Summit Chair
Nestlé Purina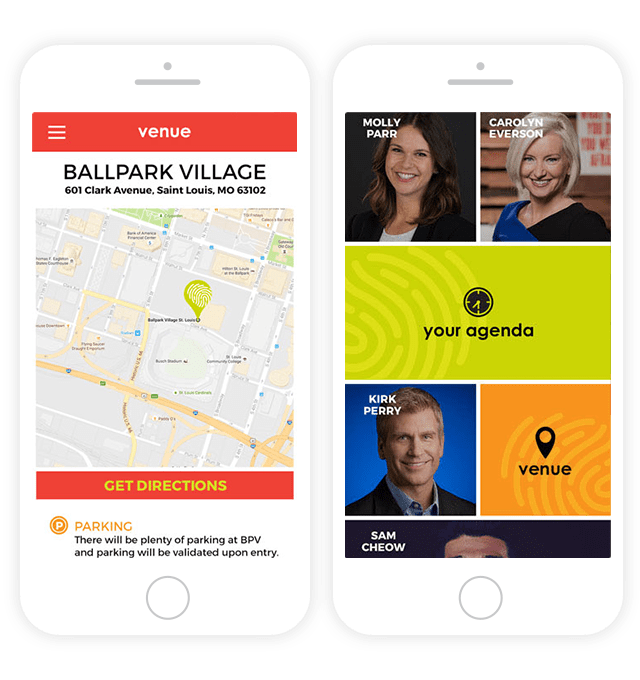 All the information you need at your fingertips
The event app allowed attendees to access the event schedule, speaker bios, venue details, interact on social, rate speakers, and receive personalized notifications throughout the day. Timely information was always readily available at your fingertips making for a smooth and seamless experience.