Gateway
Gastroenterology
Gateway Gastroenterology needed updated branding that positioned them not only as experts in the field, but also as a valuable resource for their patients to gather information on procedures and access patient forms so they could come to appointments prepared. We created a professional website and print collateral for them that did just that.
A welcoming presence
Wanting to stay away from the stereotypical stark white doctor's office feel, we paired their anchor navy blue with a vibrant sky blue and yellow to give the site a friendly and modern feel. Positioning the group image of smiling doctors at the top of the page also helped make the site feel welcoming. Using a modern san serif font and leaving plenty of breathing room between sections allowed the site to feel clean and easy for users to consume. Rounded, pill-shaped buttons brought a softer feel as opposed to corners and harsh edges.

"Leverage does a spectacular job with our website. We've had many compliments from patients in regards to our site being user-friendly and easy to navigate. They respond quickly to our requests to update or make changes to the site. They've also helped us with other general internet issues to correct misinformation on the web. Highly recommend this company."
Office Manager
Gateway Gastroenterology, Inc.
A Better Way
The physicians and staff at Gateway Gastroenterology believe there is a better way to provide efficient, expert healthcare. We produced a video that outlines how they're re-imagining specialized urgent care with the opening of their Acute Care Treatment Center.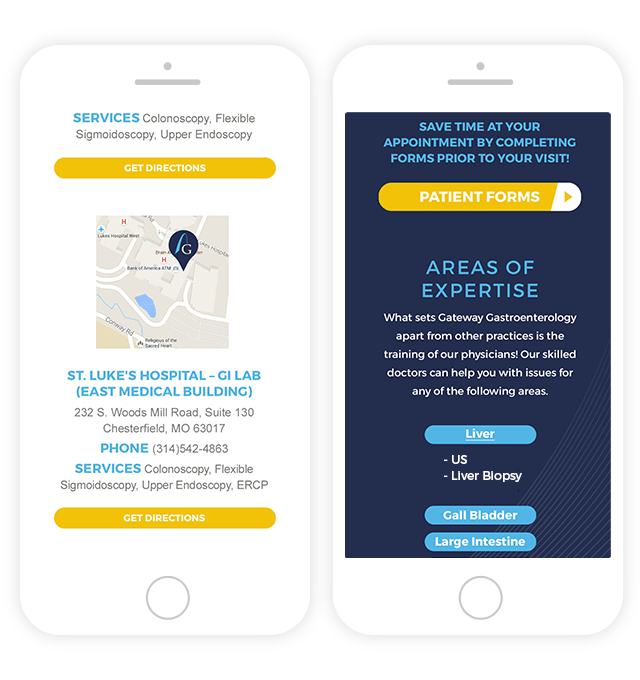 Healthcare is going mobile
With a mobile-friendly, responsive site, patients are now able to access valuable health information on-the-go. It was important to take into consideration how users will interact with the site differently on their mobile devices than they will from their desktop. With this in mind, we changed the visual diagram highlighting procedures offered to a more textual based accordion style layout for mobile, revealing the procedures offered on tap of an organ.