Design
Website Template vs. Custom Website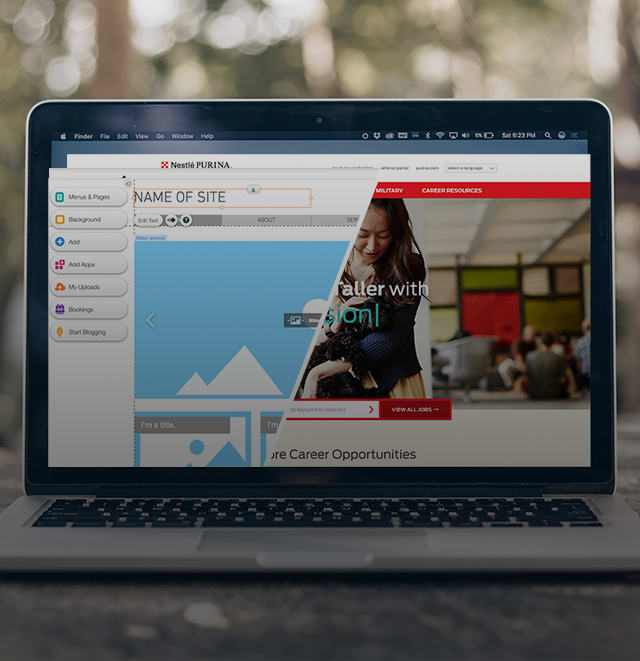 If you're in need of a website you may be wondering, 'Why do I need a custom website when I can use a company like Wix or Squarespace to create one for myself?' Obviously as one of the best web design companies in the US that focuses on strategically designing and developing custom websites for companies both large and small – you could say we're a bit biased, but to be honest, I'd agree that there are instances where a website template is probably a better fit.
Before I dive into the pros and cons, let me back up and clearly define what I mean by a website template and custom website. A website template is a pre-built site that has pre-defined boxes in which you can drop in your content. A custom website is when every element of the website – look/feel, layout, functionality, code, etc. – is customized to fit your needs.
I would agree that in instances where a company has a limited budget and needs to get a decent website up quickly – a website template is probably the best way to go. There are some nicely designed website templates you can find out there that will at least get your information out on the web in a fairly professional manner.
That said, I'd argue in pretty much any other situation a custom website is by far the best way to go. Here's a rundown of my reasoning why:
Strategically Created Just For You
There is a lot more that goes into the websites we create than just design and code. Before designing any website we conduct what we refer to as an 'Exploration Session', where we learn about your company and your needs – who are you trying to reach, what information are you wanting to communicate, what primary action do you want users to take, how do you want your company to be perceived, etc. We also research competitors in the industry. It's important to have an understanding of what others are doing and how they position themselves to determine how you will differentiate.
We will then develop a site architecture – mapping out all the pages that make up the site, and a wireframe – a very bare-bones layout that shows how content will be organized.
All of this is an important part in creating a website that reflects your company's unique personality and accomplishes your specific goals.
Uniquely Designed
All of the information I just outlined is used to strategically design and develop a website to fit your specific needs with your brand and content in mind. Everything is customized from the way it looks, to how content is organized, to how it functions and animates, and even how the code is structured.
With a template, you're forced to make your content fit a pre-determined layout. This process is completely backwards from how a custom website would be created. Instead, we design with your specific content in mind and lay it out in a way that best communicates the message you want to convey to your audience. This often means we create unique layouts for each page of your site. Since the content for each page is unique – in most cases, the layout should be as well. For example, the 'about' page will look different than your 'services', 'products', or 'contact us' page. All of the pages will still tie together and look cohesive, but they won't be the exact same template.
The result is a website that uniquely fits your company and is unlike any other. Sure, there may be other sites that are similar – but no other will be exactly the same.
Adaptable
A custom website is always changing and adapting to along with your company. As your goals and needs change the site can be easily updated and expanded. You aren't 'stuck in a box'. Our design and development team can, more times than not, come up with a solution to meet or exceed your expectations. Custom features can be built and the design can be changed to give you the capability to accomplish almost anything you can imagine (within the capabilities of a web browser, obviously).
Up-to-date Code
When a developer custom builds a site, part of their job is to stay up-to-date on the latest code trends such as plugins, animations, and web compliance. Web browsers are constantly updating how they operate and what they will allow, so it's important that your site is built with a solid foundation that has the longevity to stand the test of time. Our websites are always built to adhere to web standards that guide us in creating sites that are cross-browser friendly. They also follow standards for usability and accessibility allowing all users, including those limited by disabilities, to have an enjoyable online experience.
Professionally Considered
A designer or developer will also take things into account that an amateur may not consider. For example, saving imagery to '@2x' so they look crisp on retina display screens, while also compressing the imagery enough so the site doesn't exceed the appropriate load time. This is especially important when considering mobile. If your site takes too long to load, you could be losing a large chunk of your potential audience.
Even with a template, selecting appropriate imagery, typography, and colors might be challenging for some. By letting a true professional do the work – you're sure to end up with a result you're happy with and a website that drives results.
SEO
A custom site is also built in a way that takes Search Engine Optimization into consideration. Google is often changing their algorithm for how they rank sites when searched. With a custom website, a good developer should be taking into account new best practices as they roll out from Google and making sure the content and code are updated appropriately.
Most web marketing companies will also put tools like Google Analytics in place to track things such as clicks, site visits, bounce rate, etc. to help you plan for future modifications and improve your site. Yes, Google Analytics is a free tool, but unless you understand how to set it up properly as well as interpret all the information it spits out at you – it's not doing you any good. That's where the experts come in.
In Summary
Let's be honest – in the end, this all sounds great but I'm sure for most, if not all, it comes down to economics. Yes, all of the benefits I've listed come with a price. A custom website will certainly be more expensive and include a longer timeline than a template, but as the saying goes 'you get what you pay for'. If your company has the budget, it's well worth the investment, because in the long run a great site will produce dramatically better results than a good site which leads to a significantly greater ROI over time.
Take a peek at some of the custom websites we've designed and developed and let us know what you think.