Design
Website Redesigns: Before & After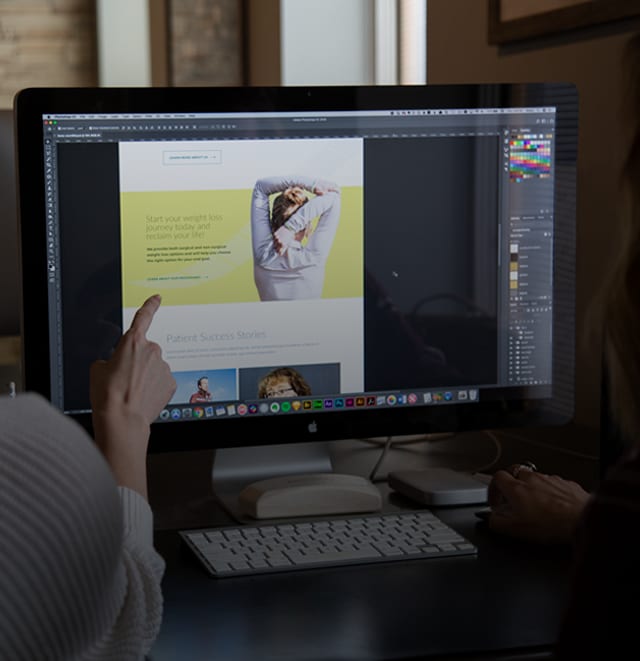 With U.S. adults spending 3 hours and 48 minutes a day on computers, tablets and smartphones and 62% of that time attributed to app/web browsing on smartphones (MarketWatch) – your website is clearly one of the most important marketing and sales tools you have. That's why it's so important to keep your website updated and aligned with your business goals. As your business changes over time, so should your website.
A few things to consider to ensure this primary marketing tool is up-to-date:
Is it reaching your target audience?
Do you have new services or products to promote?
Does the 'voice' of your site align with your brand voice?
Does it align visually with your brand or is it dated?
Is your site responsive?
Does it load quickly?
If your website hasn't been updated in 4 years or more, or if you need to address any of these questions, you're likely in need of a website redesign. That may mean completely reworking the site strategy including the architecture and content as well as the visuals or, it could be simply giving it a visual refresh.
We've selected 5 examples of website redesigns we have done over the last few years – exploring the before and after of each and detailing what was done in the redesign to keep these sites aligned with business goals.
College Match
A Los Angeles based non-profit that helps students from low-income families get into and graduate from the nation's top colleges and universities, collegematchla.org, looked to update their website both visually and contextually in order to establish a professional brand identity and effectively reach their target audience.
Before
The old site was visually outdated and in need of a complete overhaul. The primary element on the home page was an infographic with statistics that you could hover over for more information. These icons lacked cohesion and it was unclear that they were even hoverable.
Below the infographic was a short 'About Us' description and an outdated RSS feed.
The site was packed with great content, but the content lacked visual hierarchy and clear calls-to-action so the messaging was lost.
It was also missing a true logo and impactful imagery to give it the professional appearance the non-profit needed to visually demonstrate how they influence so many students.
After
A professional logo was created and used to set the tone for the rest of the site. The site architecture was reworked to highlight the main areas of focus and to allow users to easily navigate the site.
Content was rewritten to better align with business goals and laid out with a clear visual hierarchy allowing for easy readability.
The home page still uses impactful statistics to communicate the 'who' and 'what', but these are now paired with impactful images and rotate in a carousel to display one at a time.
Icons are used to visually explain their program ('how we do it') and now have a cohesive look/feel.
Clear calls-to-action have been established with red/orange buttons to draw the eye and drive action such as 'Donate' and 'Volunteer'.
A 'Beyond the Diploma' section and testimonials were added to highlight student success stories and demonstrate the real impact College Match has on it's students.
Overall a clean layout, custom infographics, and impactful imagery brought this content to life.
Read more about this redesign here.
---
Mama Lola's
Mama Lola's specializes in making and distributing authentic, all-natural tortillas and other Mexican food products. They were in need of an overall brand refresh to give them a more modern look and better meet the needs of their growing customer base.
Before
The previous version of the site was non-responsive and not mobile-friendly.
The home page consisted of a hero image rotation of their products (with poor imagery), and three image boxes featuring: 'Great Selections' (not clear where this takes you), 'Best Seller' (image, but no text describing what the 'best seller' is), and 'Fresh Products' (again, not sure where this links 🤷🏼‍♀️).
The logo itself was dated and in desperate need of modernizing.
After
The first thing we addressed was the logo redesign. We modernized the type and added the illustrated 'mama' mark to personify the company name. This then set the tone for the site.
The redesigned site is now fully responsive – accessible on any device – with a hamburger navigation that anchors to the top on scroll for easy access. This allows for a consistent navigational experience across all devices and gives flexibility should they ever want to add additional menu items.
We hired a photographer and directed a photo shoot to capture beautiful imagery highlighting their natural, authentic products. The imagery is showcased on the home page through a large hero image rotation as well as throughout the site to give potential customers a true look at their unique products.
The home page also features a paragraph dedicated to their company story – which tells of their rich-history, that's so important to them, and creates a connection with the consumer.
A products section features their 5 main product categories with an image, short description and link to learn more. These descriptions not only visually highlight their products, but also add SEO benefit.
Below the products section are two callouts that speak directly to their target audiences, foodservice and consumers, these link to pages that list wholesalers, distributors, and grocers where their products are sold as well as other helpful information.
A 'Recipes' section was added to inspire use of their product and testimonials were added throughout the site.
The new site tells their company story and gives them the all-natural, organic yet modern feel they were hoping for.
Read more about this redesign here.
---
Spine and Joint Associates
Spine and Joint Associates define themselves by offering multiple services under one roof including: contemporary chiropractic, physical rehabilitation, acupuncture, massage therapy, yoga, and tai chi. They pride themselves in always putting their patients first and treat them like family. A website redesign was needed to create a more user-friendly experience and give it the personal feel they offer their patients.
Before
The original website was a typical template site. It featured an extra large logo in the upper left and a large hero image rotation consisting of fairly generic photos – their building, a stock image of grass, a room inside their facility, and a piece of equipment – nothing welcoming or personal in any way.
The site also lacked a cohesive color palette. Below the hero was a black section featuring a bright blue welcome title and a gray paragraph describing what they do, followed by a large green services button. Pops of bright orange were also used throughout.
The welcome section was followed by four small pictures of their facility – nothing demonstrating their passionate employees or loyal patients.
After
The website was reworked beginning with the site architecture. We revised the main menu to focus on areas that patients and clients would find helpful. Spine and Joint updated the copy to better speak to who they are and what sets them apart.
A mobile-friendly hamburger navigation was added and anchors to the top on scroll. In addition, a utility navigation was added featuring important information such as phone numbers and helpful links.
The home page still features a large hero image, but rather than showing the outside of their building, it demonstrates one of their services and highlights the personal interaction between professional and patient.
Short headlines and brief descriptions tell the story of their promise, services, team and how they pay it forward – without getting wordy and overwhelming.
The site is intentionally clean, using black text atop a white background and bright green CTAs to draw the eye.
Each service is called out as an image and cross-links to each specific service page. This allows for potential patients to dive deeper and learn more.
Each page of the site ends with a clear call-to-action to 'Schedule an appointment' – making it easy for users to take action no matter where they are across the site.
Finally, a live chat was added allowing users to ask questions in real-time. This further demonstrates Spine and Joint's commitment to providing excellent customer service.
This site is still under development, but the final result will be a clean, custom-designed site that focuses on the patient and the personalized services SAJA offers them.
---
Pleban + Petruska Law
This St. Louis based law firm came to us with an outdated website and no true logo or established branding. They needed to redesign their website to position themselves as the experienced professionals they are, as well as focus on SEO to compete in search rankings.
Before
This website was clearly in need of a redesign. It was visually dated – that much is easy to see. On top of that, it was not responsive or mobile-friendly. The site consisted of a small stock image of St. Louis (which served as the header across the entire site), the navigation (a blue gradient bar – go early 2000's!), and an open space for body copy with no real layout or organization. This was the framework across every page of the site.
And, I can't leave out the counter at the bottom of the home page that tallied the number of site visitors – remember when those were a thing? Just me? I must be old.
On top of all that, the site lacked a true logo. Nothing about it said professional, experienced lawyers.
After
We went to work not only redesigning their website, but entirely rebranding them. As usual, we started with the logo to position them as professionals in the field – creating a modern mark that played off of the two 'P's' in 'Pleban' and 'Petruska'.
We chose a color palette that consisted of blacks and greens to evoke a sense of growth and health in addition to separating them from their competition – made up mostly of blues, oranges, and reds.
The website is now responsive to accommodate any screen size. The home page includes a large hero image consisting of an abstract photo of the iconic St. Louis arch – with a message rotation communicating their core values. This is followed by image callouts for each practice area, that on hover, list specific types of cases that fall within each.
A collapsible no obligation consultation form is positioned along the right of the screen giving users the ability to easily access the form from any page of the site, while also allowing them to remove it from view if they are not interested.
Below the practice areas are sections for case results, news, as well as a significantly sized footer with contact information, location and newsletter signup.
The site content has been completely rewritten and carefully considered with SEO in mind.
There's no question that the new branding is a significant improvement, but more than that, the site is much improved in terms of user-experience and SEO optimization.
Read more about this redesign here.
---
Green Guys
Green Guys was in need of a brand repositioning. The company was shifting from a 'landscape and construction' company to a 'design/build outdoor construction firm' – taking a very personalized approached to high-end projects. They needed to update their website to reflect this shift and better appeal to their niche audience.
Before
The old site featured a left side navigation on desktop that converted to a hamburger navigation on smaller screens. Having this side navigation on desktop took away important real estate to display content and imagery. Social icons were positioned in dark green directly below the main menu and drew more attention than the main menu itself.
The home page featured a hero image that rotated through several images paired with copy. For some, the copy consisted of a fairly long list of services. The images had the backgrounds faded out, and with the text overlay, it didn't really allow the beautiful project images to shine.
Below the hero rotation was a description of their process, followed by two sets of small before and after images of featured projects. On click, the images would expand to fill the full screen, but with no hover effects, it wasn't obvious to users that these were even clickable.
The fonts and overall feeling of the site was very fun and whimsical rather than upscale and architectural.
After
The redesigned website is an improvement both in terms of UX and aesthetics. The left side navigation has been removed and replaced with a hamburger navigation that remains at all screen sizes enabling full-width use of the content space on desktop.
Fonts have been changed to a modern san serif and diagonal lines have been introduced throughout to give the site the upscale, architectural feel the brand is shifting towards.
A large, full-width video replaces the hero image rotation. The video is much more engaging than the hero rotation and does a nice job of featuring the Green Guys culture and personal approach from the start.
'Get Started' buttons are strategically placed throughout driving users to the primary action.
Below the video, a featured projects section showcases a large image carousel that highlights projects aligned with specific services. Custom icons below the carousel display each service. On click of an icon, or by navigating the left and right arrows, you can move through each project.
The process section has been moved below the featured projects and changed to a three column layout. This is nice because it condenses the height of this section, no longer requiring you to scroll to view it all,  and presents it as a linear 3-step process. Imagery has also been added to give visual interest and to help explain each step.
Finally, a testimonial section has been added featuring a large before and after slider. Before and after images are extremely impactful, so adding the functionality to slide between these images and see the space transform before your eyes is pretty incredible.
We're currently wrapping up this site so stay tuned for the upcoming launch!
Read more about this redesign here.
---
Wrap up
From these website redesign examples, it's easy to see how updating your site has a direct impact on your business. By creating a professional appearance, you're immediately establishing a sense of trust among site visitors. Not only that, but a site that's user-friendly and easy to navigate makes visitors want to browse longer and enables them to find what they're looking for sooner – rather than getting frustrated and leaving. This, accompanied with solid content that tells a story and builds a connection – arguably what all humans are looking for, something they can relate to – moves them closer to conversion.
Interested in a website redesign? Give us a shout – we can help.