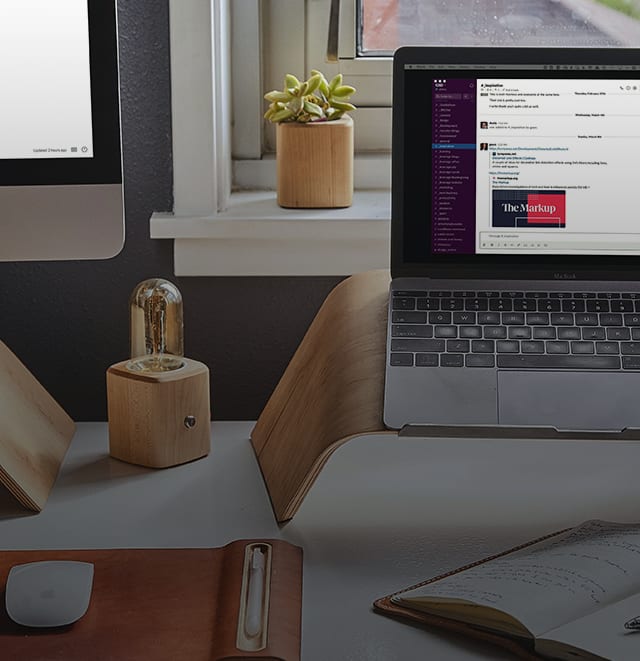 At this point, I think many of us have transitioned to working from home–at least for the near future. Not knowing what is around the corner and the fact that many things are out of our control has left many of us with uncertainty and in search of ways to keep business running as usual. Being in the digital space, working from home isn't outside of the norm for us from time to time. We're here to provide you with a few tools that help us collaborate when working remotely. Hopefully this will help you work more seamlessly. We will get through this together!
Here are some of our favorites:
We've been using Slack as our team communication tool for a while now, but did you know that slack has a 'call' button? Neither did we! (Well, Matt did but he knows everything :).) We tested it out last week before our little 'spring break' and it's definitely a great option for internal team meetings. You can chat with your team face to face without actually being in the same building, as well as share your screen with the other members on the call. It's great! 
While Slack is good for internal meetings we prefer to use Zoom when needed for client communication. You have the option to communicate through a simple phone call or use video. Like slack, it also allows you to share your screen with whomever may need it. 
InVision is a tool that we have been using for a while to present our design concepts to clients. While it does have some hiccups, it's a good platform for reviewing work. You upload (drag and drop) your design concepts to the site and then share a direct link for anyone to view. They can leave feedback directly on the concept using the comment feature–simply click wherever you want to leave a note, type in the space and hit 'send'. The person that originally shared the link is then notified via email that a comment has been left.
Freehand by Invision is another one we've been playing around with. We haven't had the chance to dive very deep into this one yet, (we probably will this week!) but with this tool, you can draw, write and sketch on a project in real time! 
Dropbox has been around for quite some time, so it's probably not a new tool for most of you–but the idea of using it solely as your company server might be. Dropbox gives us the ability to access all company files from wherever we may be. Using their Smart Sync feature, we can easily sync files to all our connected devices–computers, phones and tablets, work on them, and then unsync them when finished.
Dropbox Paper is a free product from Dropbox and a great place for us to collaborate and leave notes on shared documents. We use Dropbox Paper both internally as well as with clients.
There are plenty of tools out there so find what works best for you and your team. Let us know some of your favorites in the comments below.
We wish you all the best and don't forget, don't touch your face!