Design
The Growth of Green Guys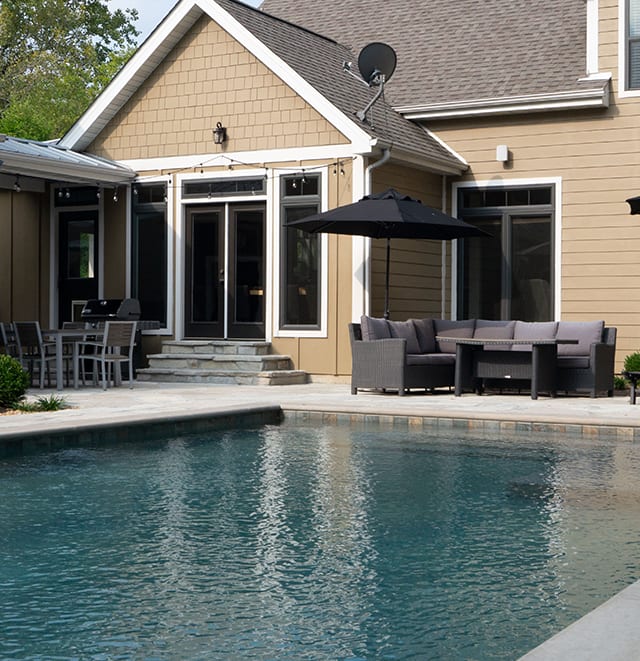 Green Guys have been a client of ours since the very beginning. Not only were they one of our first clients, but working in the same building as them has allowed us to see their brand grow and develop first hand.
Green Guys started out as just a lawn maintenance company, but over several years they have developed into a full-service landscape design/build outdoor construction company – producing custom, high-end projects for their clients.
As a design-focused firm, they know the importance of staying ahead of the curve from both a creative and tactical standpoint, which is why they decided it was time to update their brand.
What They Stand For
Although their services have changed, their mission has remained the same.
Similar to Leverage, they believe in a hands-on, personal approach to project management. They develop personal relationships with their clients from the very beginning and offer solutions and expertise throughout the entire process, as well as after the project completion.
Having that common quality, we had a few ideas on how to bring that personalized quality to their brand.
The Design
It had been 6 years since they last updated their website and with so many new projects to be added, they decided it was time for a complete refresh to show them off. We started off using their original color palette, but refreshed and modernized nearly every other design element of their website. We created a set of custom icons, chose new fonts, incorporated angled shapes and utilized the full width of the browser – creating a cleaner look and space for big beautiful imagery.
The combination of hard and soft edges utilized throughout the design are comparable to what you see in the projects that the Green Guys design and build – thin lines, curved edges, sharp angles, circles, and squares. Sharp angles and squared edges are used as background shapes and are juxtaposed with the rounded buttons and rounded edges of the icons – creating a balance of both edgy and friendly.
We chose the font Nexa for it's modern look, legibility, and versatility of multiple weight variations.
Imagery
Great imagery is important for any website, but this is especially true for a landscape construction company. Project imagery is a huge part of what sells their services. Read more about Why Good Imagery is SO Important.
We know their work is good, but it was our job to display it in a way that captures the viewer's attention and keeps them wanting more – inspiring them to start a project of their own! The projects that they have done are INCREDIBLE and continue to get better and better, so it was important to refresh their portfolio with their hundreds of new project photos.
Along with beautiful imagery, we included a video in place of a hero image on the home page. Doing this created movement and gave visitors an inside look at the process and culture at Green Guys. It adds a personal touch to the site that goes along with the mission of what they do and why they do it.
A Shift in Design
Just as we were beginning the development process, we took a step back and questioned whether all the decisions we made for the design embodied the sophistication and upscale look Green Guys were going for. Ultimately, we decided it did not and since we work with Green Guys so closely, they trusted us to revisit the design. It was important to us that we get the design right and visually communicate the appropriate message to their customers.
The main thing that we agreed needed to happen was a new color palette. The original colors were too bright, too yellow-green, and not sophisticated. By darkening each color, pushing the greens more towards the blue end of the spectrum, and using a warmer grey, we think we accomplished that feeling of sophistication.
The other change we made that had a huge impact on the design was to change the font. Nexa had that modern look we wanted, but the way it was used was almost overwhelming. It felt too wide when used in all caps so we switched to a very similar font, Montserrat. Instead of using all caps throughout the headers, we paired a small, bold, all caps section title with a large, thin, lowercase descriptive title, which gave it the balance it was missing.
Those changes alone proved that color and fonts can go a long way.

Navigation
A hamburger navigation is a controversial topic in the design world and many people have started to move away from it. We decided that the hamburger navigation was the best way to go with this design visually, as it aligned with the clean look that we were going for. However, it created an extra step to access parts of the site that we felt were the most important. To solve this issue, we looked towards our mobile design for inspiration and added a navigation bar anchored to the bottom of the screen that included quick links to important items – services, galleries, projects, and getting started.
Read more details about this project here.
Taking a step back and revisiting a design to make sure you are aligned with the goals/strategy of a company is okay, more than that, it's necessary. At Leverage, it's important to us that we meet, and even exceed, client expectations. That means not only creating a beautifully designed piece, but one that visually communicates what the client is looking to accomplish. In order to do that, we need to stay flexible and willing to stop and evaluate things we've created at any point in the process – strategy, design, or development. It's only then that we can ensure we're creating the best possible solution for our clients.