Design
Staying Inspired at Home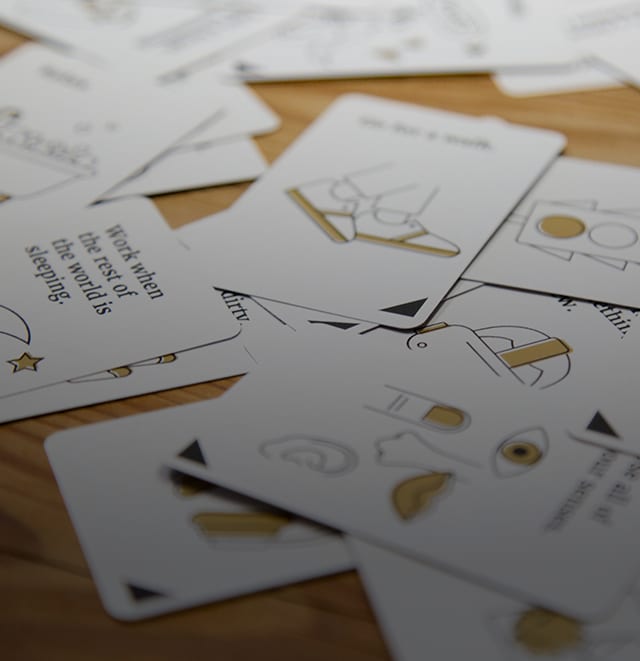 Working from home can be hard, and staying inspired can be even harder. We created a deck of inspirational task cards to keep us inspired when we are feeling stuck. It's easy to get caught up in a daily routine that can sometimes put you in a creative rut–especially when you don't have anyone around to bounce ideas off of.
Here are a few tactics that help us break through mental blocks and get those creative juices flowing: 
Stare out the window.
Take it all in – signs, trucks, buildings. Even if it's just to give your eyes a rest from your computer screen. You may be surprised by what can inspire you. (I do this with my dog at least twice a week.)
Have a drink, or three.
Loosen up. Some of the best ideas can come from a little booze in the system–but drink responsibly. Drinking too much may hinder your critical thinking. 
Go for a drive somewhere new.
A change of scenery always helps refresh the mind.
Get other's opinions.
This would be a great time to get an opinion from an outsider. Ask your spouse, family member, or friend. Having a different perspective can be super helpful–even if they are in a completely different line of work. They may suggest something that you may not have ever thought of.  
Explain it to a rubber duck(or some inanimate object).
Web developers have the tradition of keeping a rubber duck on their desk. When stuck, they explain the problem to their inanimate friend. At some point during the explanation, a light bulb goes off and the solution is found. The next time you get stuck, chat it up with your new friend–you'll be amazed with the results.
Sleep on it.
Sometimes it's the best way to clear your head and forget about whatever you are stuck on. You'll wake up feeling refreshed and ready to work with a new idea.
Take a break. Do something fun.
Do something that makes you happy. It will boost your mood making you more likely to feel inspired. 
Doodle.
Sketching on paper before working on screen can help get your creative juices flowing and expand your creative mind.
Go for walk. 
A little Vitamin D and some exercise will do you good and get those endorphins flowing.
Just get started.
Ever put something off just because you don't know where to begin? Just get started. 
Change your routine.
Simply switching things up and completing your daily tasks in a different order can make you look at things differently. 
Consider, what would Steve Jobs do?
One of the greatest innovators of all time. Try putting yourself in his shoes. Sometimes pretending to be someone else can spark the most creativity.
Revisit an old idea.
If a project or an idea has stalled, try circling back to it later with a new mindset.
Use all of your senses.
This one might be throwing you for a loop. You can't taste an idea right? But, you can say it out loud and sometimes that triggers something (*revert back to rubber duck). Brainstorm on paper, watch a video, listen to a podcast–these are all great activities that involve different senses and can spark creativity. 
Play with something new.
Have a new toy? Bring it out! Playing with something new can bring out excitement that really gets the fire burning and can leave you feeling inspired.
Set a deadline.
I don't know about you, but sometimes when I don't have a deadline I lose focus or I don't push myself hard enough to think of a solution. Setting a deadline forces me to think quickly, even if I have to switch gears, and ends in some of the best results.
Listen to a new album.
Try something new! It allows you to tap into a different creative mindset than your usual playlist would.
Work when the rest of the world is sleeping.
No distractions. Just you and your computer. 
Get your hands dirty.
Sure, it may seem a little childish, but do something messy–fingerpaint with your kids or work in the garden. Sometimes bringing out the kid in yourself can put your mind in a totally different place and allow you to think unconventionally.
Relax.
Everyone has their own idea of relaxation. Maybe it's watching a movie, taking a bubble bath, going for a run, or reading a book. Whatever it may be, relaxing can help clear your head, calm your mind, and give you the extra boost you need to attack whatever project lies ahead.
Learn something new.
Get out of your comfort zone. It's easy to stick with what you know, but pushing yourself to learn a new technique or skill can improve your work significantly.
Dance it out.
Not only is it fun, but it feels good! It can help you let out any frustration you might be having from creative block.
Browse/read a magazine.
It's always a great idea to look at other resources for design inspiration.
Pump some iron.
It's no secret that getting your blood pumping and energy flowing can boost creativity.
There's not one solution that works for everyone, so try a few and find what works best for you. Have others? Share the ways that you are staying inspired in the comments below, or download our set below and stay inspired!
---
Download + Print Your Own Deck