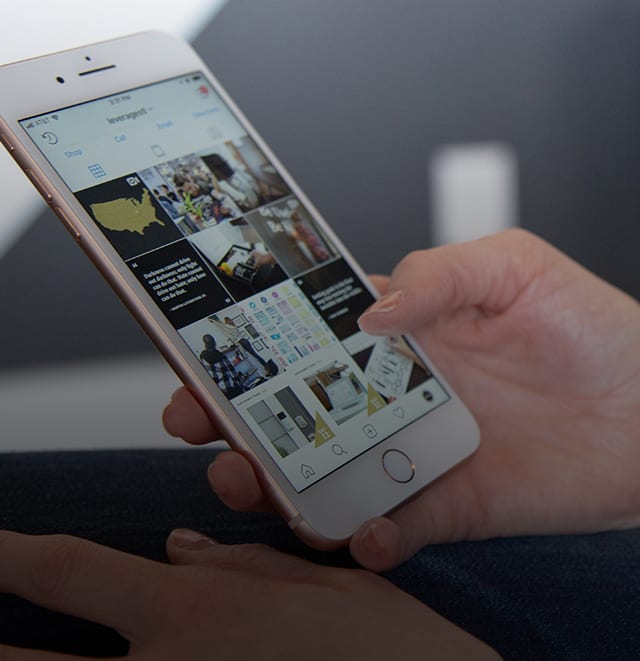 For businesses of all sizes, especially small businesses, it can be difficult to get exposure on social media—algorithms tend to prioritize personal content over business content. However, with patience, persistence, and planning, social media platforms can be a great way to engage with your audience.
​​
​​We've tried numerous methodologies to manage our social presence, and have come to find that the best approach is to just keep it simple. Here are some tips to help kickstart your social media efforts.
1. Schedule a Brainstorm Meeting
Each month, we sit down as a team and brainstorm ideas for our social accounts. This involves creating a long list of ideas, scheduling them for that following month, and coming up with imagery and captions as time allows. We gather our ideas by first considering what information we want to share. This often includes: new projects we've been working on, how our project work has impacted our client's business, new clients or new hires, fun things going on around our office, events we plan to attend, etc. From there, if there are still more dates to fill, we look at social media holiday calendars, events happening around us, as well as other creative agency accounts for additional inspiration.
2. Stay Organized
How do you keep all of your ideas organized, in one place, where everyone can access it? We use Asana, but any shareable to-do list document will do the trick. With Asana, our entire team can access our list of ideas and collaborate on specific captions and imagery for each post, in addition to scheduling.
3. Start a Social Calendar
We have found that instead of just coming up with content on the fly, it is most efficient and SUPER helpful to plan out the entire month. With a full schedule of client work to focus on, a specific content calendar makes the process much more efficient and ensures our own marketing efforts don't fall through the cracks.
4. Use a Scheduling Platform
Another tool that we have found makes our lives much easier is Later. Later allows you to visually schedule out your posts in advance on Instagram, Twitter, and Facebook. It saves all used and unused imagery into a gallery for easy access, and allows you to preview your feed ahead of time. You can easily post to all three platforms or only to the ones of your choosing. Not only is it a great tool for posting, but they send out tips each week to help increase your social media presence and following.
5. Save a Set of Hashtags
Hashtagging is a lot of work and can be time consuming when typing out 15+ at a time. To streamline this process, we created a set of hashtags that best describe our brand and what we do. We keep them saved in a spot so we can easily access them to copy and paste into our post – saving us time and headache. Then, we manually add any additional hashtags that are relevant to each particular post.
6. Create Branded Templates
Remember, social media users are following hundreds of accounts. It's very easy to get lost in the mix. Establishing and following a brand identity is your best bet to create thumb-stopping content. Make sure that all types of posts—whether it's a quote, an anniversary post, a company stat, or promoting a project on your story—follow your brand aesthetic. You want people to recognize your posts almost immediately.
I hope these tips help you spring a plan into action for your own accounts. It's a lot of work, but it can be very rewarding—which we have experienced first hand. If this still feels a little overwhelming, that's what we're for! We help businesses evaluate, strategize, and execute marketing plans. We can help you get up and going and ensure you're set up for success—give us a shout!