Culture
Meet Drew – Senior Web Developer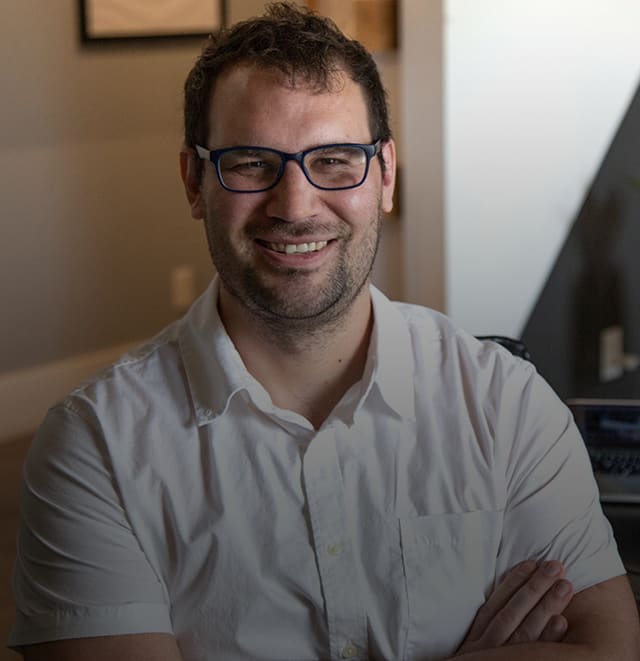 Everyone say hi to Drew 👋
We've been on the hunt for the perfect web developer forever.  We're quite picky around here, so we're thrilled to have a person that takes his craft as seriously as we do.  Drew joined us last year and already has a handful of awesome projects under his belt.  As we speak, he's hunkered down, headphones on, refactoring some JavaScript to ensure his code is working just right, so it's about time you get to know a little more about our new Senior Web Developer.
First, tell us a bit about your personal life.
"I grew up in Rolla, MO. A small town whose motto is "the middle of everywhere." I am the youngest of 4, the only boy. I spent most of my time playing basketball and football growing up. Now I live in Fenton, MO with my wife and 2 boys. We try to strike a healthy balance of outdoor adventuring and watching movies/playing video games (with limited success)."
What about your work life?
"I've been working with code for almost 15 years now. My background is originally in graphic design—my first love—so I really care about how the thing looks at the end of the day as much as how it functions.
I earned a business degree from ORU in Tulsa, OK and I've worked in Marketing, in one capacity or another, for about 10 years. My focus has shifted from design to almost entirely programming and front-end development. Fortunately that well runs deep enough to keep things interesting."
What are your professional interests?
"I find myself having too many interests and not enough time, but a short list would include:
Logo design & branding
UI/UX design
Front-end development
DevOps
Animation & motion graphics
Game development"
What do you like to do in your free time outside of work?
"Honestly, I'm infatuated with movies, shows, and video games so I try to consume as much as humanly possible. Anything that is highly regarded, critically, I have on a list somewhere."
Again, we're so happy to have Drew. Follow us on Insta to be the first to see this crazy project he's been working on for a high-end photographer—it's way cool and will be launched soon!