Award
Leverage Named 'Most Innovative Companies in St. Louis' by Small Business Monthly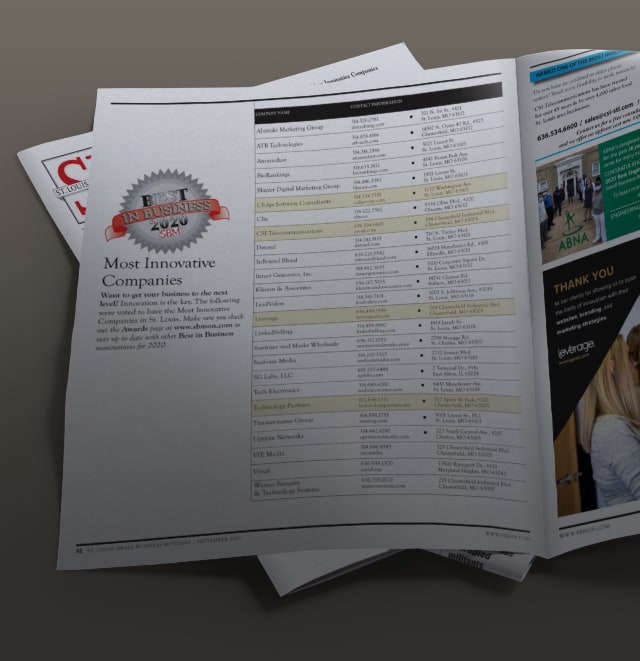 Leverage was recently named 'Most Innovative Companies' by Small Business Monthly. We always strive to be forward-thinkers, pushing ourselves to create innovative solutions for our clients, so we're beyond grateful to be recognized as such by our clients and the St. Louis community.
Putting innovation into practice…
We like to say that we're a small firm by design—a team of experts that work hand in hand as an extension of our client's teams. With this approach, we're able to explore unique ways to bring our client's visions to life. We're not a one-size-fits-all shop. Straight from our website… "With every project comes a unique set of challenges. We thrive on solving those challenges with innovative solutions that help our clients create exceptional experiences. As needs evolve, so do our services." One example of this can be seen through our work with Nestlé Purina Careers. Their website is considered a best-in-class web experience within the talent acquisition industry. By tapping into their Applicant Tracking System API, we've built out complex department pages that appear simple on the surface, work great, and make it easier for job seekers to find opportunities. But, we believe we can push further, and so we're working on implementing artificial intelligence through a chatbot to help answer questions, recommend jobs, or even "build your career" at Purina where you'll be able to design your own career path. We're very excited to see this work evolve over the next 12 months.
Teamwork for the win…
We're fortunate to have the opportunity to work with a lot of other creatives that want us to push the limits of web experiences without sacrificing user experience. That last part is the key to great innovation. There is a lot of ultra-creative work out there, but if it's not usable, its utility is lost. We believe great experiences serve its users. A few examples of this:
muros
Our client muros provides mural advertising. This is an incredibly unique form of advertising—it's literally art! And so, we developed a web experience that comes alive and channels the inner-spirit of the artists.

POOLHOUSE
POOLHOUSE is an ad agency with locations in Houston, Richmond, and Atlanta. With the goal of revamping their website to demonstrate their creative philosophy, they decided to find a partner to help them push the limits of functionality—we're thrilled to be that partner and have had a blast exploring interesting ways to communicate their brand through a modern web experience.

Antidote Studio
Antidote Studio is a St. Louis video production studio.  We've worked with them on several collaborations throughout the years, so when it came time to rebuild their website, we had a headstart in understanding their brand and culture to build an experience that reflects the quality and style of their work. The trick is that as a video production studio, what do you need on your website? LOTS of video. With lots of video comes technical challenges to make sure everything works across various devices and at varying internet speeds. We came up with a very cool solution for their home page where the videos only play on mouse hover (or only when in view on mobile).  While seemingly trivial on the surface, it's sort of a two-fold treat: 1) it's very much a surprise and delight experience for the user—users love how it seems to magically transform from a still image to a video clip without a glitch. 2) It has the added benefit of saving bandwidth for only when you need it, ensuring the site still loads fast despite massive video files.

GreenHouse Foods
We're also working with Green House Foods, a startup in Los Angeles that has developed plant-based donuts. This food innovation requires a web experience that mirrors that innovation. We're knee-deep in the design process now, but their temporary splash page hints at the direction we're headed—lots of exploding sprinkles and interactive donuts!
Looking forward…
You may notice that the recurring theme here is "we're working on xyz…" To me, that's the sign of innovative thinkers. Things 'finished' feel less innovative. We're always thinking about the 'next thing' and so when we think 'innovation', we're thinking of all of the things in the works. But that's not to say our past work doesn't hold up. Whether it's a local landscaping like Green Guys or a prestigious institution like Loyola High School of Los Angeles, we're always looking for ways to push past the status quo and find unique ways to create exceptional brand experiences. All in all, we're very honored to receive this recognition and want to thank SMB and its readers for recognizing our work.  A big congratulations to all the other companies that made the list. Check out the full list of winners.