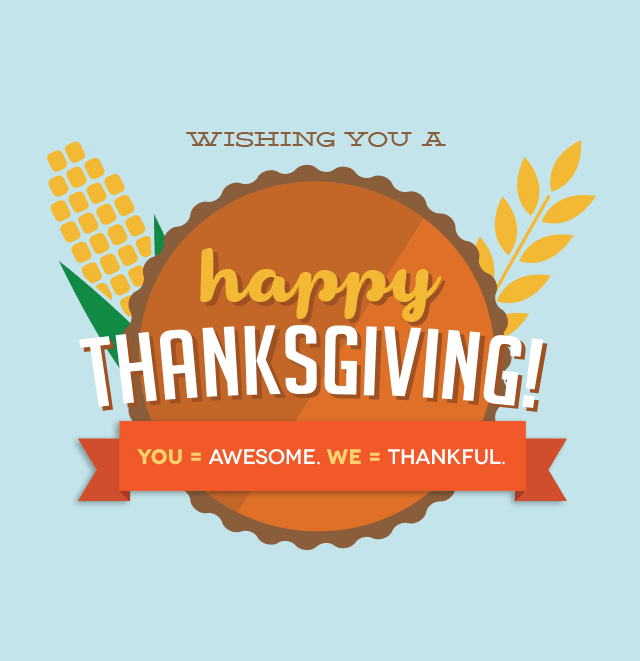 We've had a spectacularly busy year-to-date and with Thanksgiving just around the corner – what a perfect time it is to pause, reflect, and share with everyone a list of what we're most thankful for…
We're Growing as a Company
And super excited for what's in store next.  We are thankful for having such wonderful clients that allow us to do what we love and expand our creative shop.  We welcomed three new team members this past year:
Abbey – graphic design wizard
Shannon – account manager extraordinaire
Julia – marketing strategy master
Family
This past year as a company we've celebrated a marriage, a first-time dad, and an expecting mother of twins!  We love our families (all year long) but it is always nice to send our appreciation and dive into the holiday season with an extra sense of gratitude for those closest to our hearts.
Companies that make life easier
With life being so hectic, we look to find tools that make life a bit simpler and stress-free. We look forward to having Uber in town (legally — finally). The easy-to-use payment system and location-based efficiency make this company our convenient driving service of choice.
This seems to end up on our list every year, but we are forever thankful to the ever-so-user-friendly Slack, for providing us a tool that ensures we don't miss a thing when it comes to project management with real-time communication (and waaaay less email!).
The great thing about our industry is that all you need is a computer and an internet and you can work from anywhere. Our switch to Dropbox Business this year puts terabytes of information at our fingertips no matter where we are, empowering everyone to work where and when they feel most productive.
Lastly, thank you to Gusto, the sleekest payroll system around (yes, we're including a payroll system – it's that great). Fridays are fun no matter what, but Gusto makes every Friday a little more exciting knowing that getting paid is as easy as receiving a beautifully designed email letting you know those dolla' bills are in your account.
The Small Things
Like having an office that allows pets (shout-out to Winnie the Dood), birthday lunches, being within walking distance to El Maguey, Stefanina's, and a whole host of other great food spots, having a fireplace and cozy couch when you just need to relax and turn on the Sonos system, having a built in bar when you REALLY need to relax, and all things Keanu Reeves (don't ask!).
We truly love the work we're doing, who we're doing it with, who we're doing it for, and where we're doing it — for that, we're sincerely thankful.
Share Your Thanks
With the hopes of making your life a little lighter this holiday season, we've developed an email to help you send a quick, beautiful message to those you are thankful for this year — it takes about 10 seconds and will brighten someone's day.
Happy Thanksgiving!
Your friends at Leverage