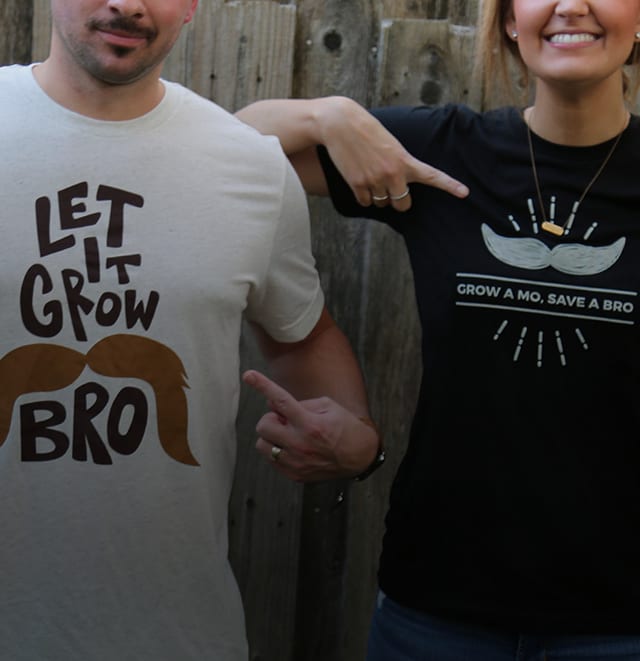 Cancer sucks. Mustaches are awesome. Enough said. I could stop there – but I know you're dying to know where this is going so I'll continue.
At Leverage our mantra is 'Be Useful. Be Kind. Be Fearless.' This carries through not only in how we go about our daily work and interact with our clients, but in our overarching desire to help others and make the world a better place to live. This sounds cliché, but it's the truth. One of the main reasons I love working at Leverage is that it's made up of a team of individuals that want to go the extra mile to help others – in their daily work and beyond.
So how does this relate to mustaches?
In a brainstorm session one afternoon, we were discussing how we could use our creative and technical skill sets to give back. We decided it would be fun to design and sell t-shirts (because who doesn't love t-shirts?) and donate all the proceeds to charity. Now, to determine which charity.
I don't recall exactly how, but at some point mustaches came up, (let's be honest, we tend to get off topic at times) which led us to 'Movember' or 'No-Shave November' – an annual event run by The Movember Foundation that involves growing mustaches during the month of November to raise awareness about men's health issues. Donating to this charity seemed like the perfect fit as it allowed us to get creative with a fun subject matter, mustaches, while supporting men's health and the fight against prostate cancer. A win, win.
With Movember as our inspiration, we came up with an exhaustive list of 'bro' puns and strategized a campaign that centered around two phrases, 'Let It Grow, Bro' and 'Grow a Mo, Save a Bro'. We went to work designing t-shirts and a website to promote and sell the shirts.
Once the shirts were printed we had to get the word out and encourage people to buy them. No sales, no donation. We gathered our friends, family, and all the mustache gear you can imagine and had a backyard BBQ/photoshoot to capture imagery we would use on our website and social posts to promote the shirts. I muscht say, we all had a great evening!
All in all, the campaign was a success. We were able to flex our strategic, creative, and technical muscles while having fun and giving back.
Check out this poster we designed with some of our favorite bro puns.
Want some mo?
We still have a few shirts left! If you want to grab one for yourself or someone you know visit, saveabro.com. But now we mustache (last one, I promise)…which one will you get?