Design
Creating Something 'Graze' Worthy for Cheese + Honey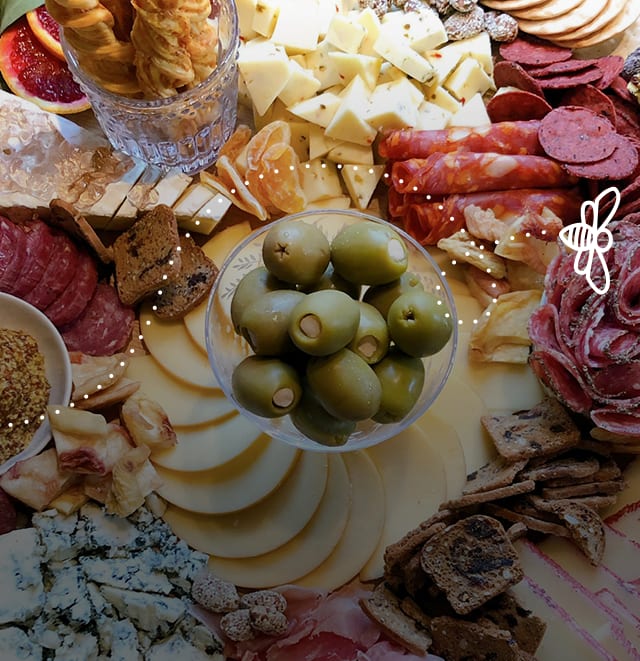 Who loves a good charcuterie board? Or should we ask, who knows what a charcuterie board is? No worries if you don't (some of us didn't know before this project started)—but that's exactly why our client hired us, to help explain her business with the creation of her new brand.
Cheese + Honey is a graze board company based in St. Louis that was started by Courtney Troy, a stay-at-home mom who has a passion for throwing parties.
We kicked-off the project the same way we always do, with an exploration document—a series of questions that prepares us and the client for a discussion to follow. In this step of our process, we are looking to learn as much as we can about the client, their company, their needs, and their goals.
Courtney was in need of establishing a visual identity for her newly established brand, including a logo and website. During our exploration, we discussed things such as overall look, feel, colors, likes, dislikes, etc. Here's what we learned: she wanted her branding to feel fresh, organic, bohemian, and sophisticated—but fun. It was also important to establish visuals that clearly tell the story of what the company does. We couldn't have been more excited to get started.
So, what first?
The Logo
Every new business needs a well-designed, unique, and versatile logo to first establish their brand. The food industry is one we were all excited to work with since it allows us to really push the level of creativity. After days of inspiration, sketching, and internal critiques, we narrowed it down to the following 5 designs to present.
It was not only important to create a logo mark that helped communicate what Cheese + Honey is, but could also stand alone as a brand element without the logo type.
One of the ways we did this was through illustration. We chose to go in two different directions—a subtle representation of a bee or the honeycomb shape, and a very direct illustration of a cutting board with a piece of cheese and a honey dipper. For the logos with a more subtle representation, we chose to include a short tagline (which was harder than you may think). If it just said 'Graze Boards' would people think they just sell the board? Does it need to include 'custom'? Should we include 'STL' since Cheese + Honey currently only caters to St. Louis?
As for the logo typography, we mostly chose to use handwritten script fonts to give it a whimsical, organic, and bohemian feel. When choosing a script font, it was important to make sure it's clearly legible (even when used at a small size), which is one reason we chose to create a custom font! It gave us more control and added yet another element of uniqueness.
Taglines should rarely be in script for this same reason, so when choosing the fonts for the tagline, we kept them clean and added additional spacing in between each letter (aka 'kearning' for you design nerds 😉 ). A tagline is sometimes equally important, but should still take a back seat to the main logo.
Ultimately, our client went with option #1. This was a custom handwritten font and illustration that would be unique to the brand. It felt minimal, organic, bohemian, and sophisticated with a touch of fun (the bee) which is exactly what the client was looking for
The Website
Charcuterie boards have become wildly popular and Cheese + Honey was no exception. The orders were flowing in, and that was a good thing, but the issue was with <i>how</i> the orders were coming in. She was receiving emails, DM's, facebook messages, texts and calls, which made it hard to keep track of everything. We needed to come up with a solution that would streamline the ordering process and collect all inquiries in one location. By setting up Cheese + Honey with an email account specifically for collecting orders and adding language to all of their social platforms directing customers to the online order form we created, we were able to bring a level of organization to the process.
When your business is doing well the last thing you want to do is put a halt to it. Building a full, custom website takes a lot longer than most clients realize, but we understand a client's need to get things moving quickly. One of the ways to help with this is to create a splash page. The idea of a splash page is to get a single landing page up quickly that lets people know the basics—1. You have a business, 2. You're legit, and 3. How to contact you. Since Cheese + Honey was starting from scratch with no website at all, this is exactly what we did to establish their presence online while we work on the full site.
Now for the design.
Our client's graze boards were BEAUTIFUL and we wanted the site to follow suit. We chose colors that would not only complement her photography, but also highlight it. We used a neutral light cream as the main background color and pulled colors that were most commonly found throughout her graze boards—yellow, peach, and lavender. The one color request we received from our client was slate blue, which we integrated throughout the site and logo.
We wanted to incorporate design elements throughout the site that brought the same feeling as her logo. We paired a simple, modern, san serif font with a handwritten script font to compliment the custom handwritten type we created for the logo. We also illustrated a line-drawn floral element to add a little more sophistication and femininity. Our client often garnishes her boards with fresh flowers and greenery, so we wanted to do the same.
Apart from how a website looks and is organized, it's important to consider how users will interact with it. Parties are all about interaction and movement, so how could we incorporate this into the site? We wanted a user's focus to bounce from one side of the page to the other without it being overly complicated. You know, kind of like working the room at a party 😉 ! We incorporated a dotted line connecting one section to the next, almost guiding a user through, which made navigating each page a little more clear (plus, we got to use our little bee friend). By overlapping text and imagery, along with the drawing of the dotted line, we were able to create the movement we were looking for.
Beyond the visuals.
Telling the story of Cheese + Honey was not something we did through visuals alone. As we mentioned, the term 'charcuterie board' isn't something that's common knowledge, so language and content was probably the most important thing for this site. What is a charcuterie board? What is a graze board? What is a graze table? What's included for each board? How is it customized? What types of events do you do? These are all questions that we felt needed to be answered (and clearly) throughout the site.
When writing content for the home page, we wanted it to be short, sweet and to the point. The internal pages are where we would dive into more detail. The main action they wanted a user to take was to place an order, so we broke the ordering process down into four simple steps: Request, Discuss, Book and Deliver, keeping this as clear and digestible as possible. We then included a short form directly below making it easy to immediately take action.
Get Ready to Graze
love exploring new styles and layouts while developing a new brand. This forces not only myself, but my whole team, to think outside of the box and it's what makes us become better designers/creators. They say, 'stick to what you know', but I fully believe that taking risks is what makes us better at what we do. This project truly did that and I hope you enjoy it as much as we did.
Now, go check out the Cheese + Honey splash page and order yourself a graze board.
Full site coming soon!