Branding
Brand Guidelines: What, Why & How?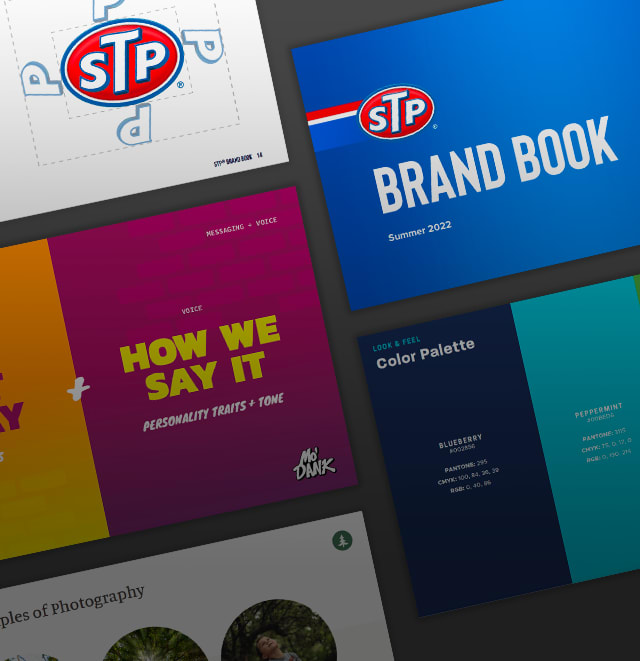 Brand guidelines, also referred to as brand book, brand standards or brand style guide, are a set of rules that define how a brand should be communicated to the world. Some are simple, incorporating only basic brand visuals such as logo, typography, color and imagery. Others are more comprehensive and incorporate things like core messaging, tone & voice, positioning, consumer profiles, digital & print applications, in addition to basic visual elements.
What's the Purpose of Brand Guidelines?
Whether you are an established fortune 500 company, a mid-sized company looking to reposition yourself in the market, or a new start up—a solid brand guidelines document will ensure your brand is represented in a way that is consistent across all touch points and thus, recognizable and memorable.
Why is this so important? Because an inconsistent brand can cause confusion among consumers. Confusion can lead to uncertainty, decreased brand awareness, and mistrust, which generally results in a low conversion rate. Not good.
Brand guidelines are not only an effective tool for representing your brand externally, but serve as a guide for internal teams to more easily and seamlessly execute cohesive future marketing efforts.
How Do Brand Guidelines Come to Life?
Each client is different, so no two brand guidelines are exactly the same, but our approach typically is. Before we can create any rules, we must first have a solid understanding of the brand. We conduct a brand exploration to learn as much as possible about the company—what they stand for, who they want to be, and why. This learning is often done through a full-day brand session or even a simple online survey—depending on the client's needs.
Once we have a good understanding, we get to work strategizing the most effective way for the brand to communicate this to their audience. It isn't until we are completely aligned on messaging, visuals, and creative execution that we are able to pull everything together into a unified brand guidelines document.
Brand Guidelines Examples
Here are a few examples of brand guidelines we have created for our clients:
Nestlé Purina Careers
The Purina corporate brand had a full brand guidelines in place, but Nestlé Purina Careers is positioned as almost a smaller sub-brand of Purina. After partnering with them over the course of several years to create a website, establish a social media presence, and design various logos and print materials, they needed to pull it all together—along with their new brand messaging, into a comprehensive resource for internal and external use.
In addition to a PDF version, we also created an online toolkit with downloadable assets. This gave their outside vendors, as well as their inside marketing team, easy access to logo files, type, collateral and imagery. It also allowed for more timely updates in comparison to circulating a new PDF.
Metropolitan Forestry Services
Metropolitan Forestry Services (Metro-Forestry) is an established client that has been in the industry since 1976. They were undergoing a leadership change and came to us looking to refresh and reposition themselves within the industry. We conducted a full day brand strategy session and partnered with them to refresh their brand presence, including messaging and visuals. We reimagined the brand, while maintaining the pieces that had made them so successful over the years.
The brand guidelines helped to onboard their internal team with the updated branding so they could consistently push it into the world. We then helped them execute various marketing materials such as a website, print collateral and truck wraps.
Mid-Continent Dental Congress
The Greater St. Louis Dental Society puts on an annual conference, known as the Mid-Continent Dental Congress, for dentists and their staff throughout the mid-west. Looking to boost attendance, they planned a change in venue and looked to establish a brand for the conference that appealed to a more youthful audience as well as experienced professionals.
After our brand session with their team, we helped strategize how best to position their brand through a logo, core messaging, tone & voice, type, color, and imagery. We then created brand guidelines that set the foundation for the new brand moving forward.
Check out the full brand guidelines.
Mo'Dank
Organic Remedies is a medical marijuana company that came to us for help branding and marketing their new recreational brand, Mo'Dank. They had a logo and that was about it. You guessed it—we sat down with the Mo'Dank team for a brand session and learned as much as we could about their industry, who they wanted to reach, what sets them apart from their competition, and why.
Coming away from the brand session, we determined it was best to refresh their existing logo to better reach their intended audience. After creating a logo and establishing brand messaging and visuals, we developed a simple brand guidelines—which allowed them to seamlessly roll the brand out (pun intended) into the world and set them up for future success. We then created a website, packaging and social templates using the guidelines that had been established.
Check out the full brand guidelines.
STP
STP is a historic brand with strong brand awareness. They've had many brand guidelines created over the years—with the latest created only a few years before coming to us. They had recently re-evaluated and repositioned the brand with the goal of reigniting it within the category. We helped develop a creative strategy that aligned with the new positioning and worked through multiple rounds fine-tuning to bring the creative to life across various touch points.
The brand guidelines would be utilized by various marketing teams across the brand, both nationally and internationally, so we needed to ensure it was as detailed and comprehensive as possible. Any team could use it to hit the ground running—while maintaining a consistent brand presence.
Established Brand Guidelines? Now What?
Once you have brand guidelines, the most important thing to do is to follow them.🙂 Be sure to share them with your internal team and make sure everyone is aligned. We have unfortunately had clients go through the full process to establish an amazing brand identity and comprehensive brand guidelines—only to not follow them moving forward.
Interested? Not sure where to start? Give us a shout—we're happy to help.