Culture
Be Useful. Be Kind. Be Fearless. The Leverage Agency Model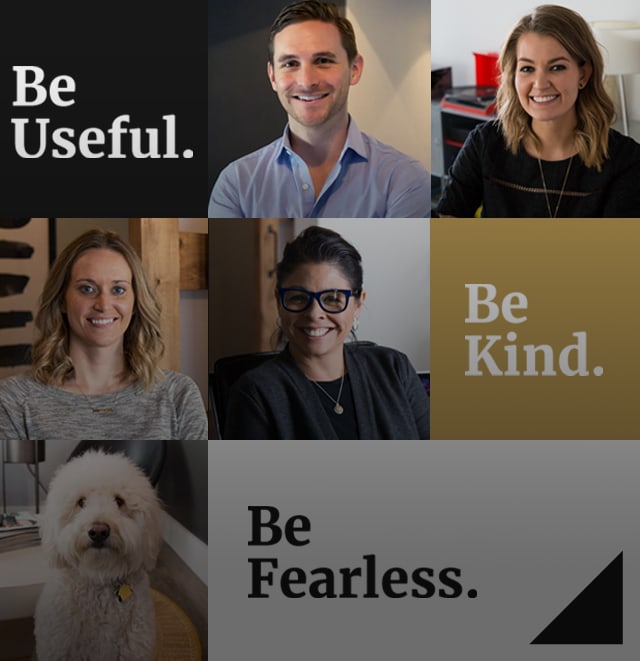 Be Useful.
We always knew there was something special about Leverage, but never took the time to explore it further and attempt to put it into words. Sure, we were producing six and seven-figure brand creative, at a fraction of the cost, but there was more to it than just money.
Then, one day, it clicked. A project manager on my team asked me how to handle a particular situation with a client – I responded with, "I just always try to make sure I'm being useful and providing value for them." That sounds like marketing fluff, and in the moment, it even kind of felt like marketing fluff, but the difference was that I 100%, honestly, truly believed it and meant it (and still do) – Just. Be. Useful. Do what you need to do to provide value in any way you can in every communication.
I love this because, at the heart of it, it's based on empathy which I find to be one of the most important traits that not only businesses can have, but people in general. By taking the time to think, "If I were you, what would be most helpful?", you're demonstrating a willingness to view the world from someone else's perspective and make decisions based on a point of view that isn't necessarily your own.
It's a very selfless act and I think the world needs more of that, let alone the creative industry.
This quickly became a mantra for our team, and because it's NOT just marketing-speak, I think that's a large part of how and why we've been able to create such long-lasting relationships with all of our clients. When asked for help or an opinion, we don't stop and think, "Are we getting paid to answer this?", or "Is that within our scope?", or "Isn't that someone else's responsibility?" We make ourselves useful. We contribute what we know, when we know it, regardless of our scope or responsibilities, to the fullest of our abilities, with the best interest of our client in mind. This has proven to be an invaluable characteristic in a day and age where big brands are starting to stray away from the massive ad agencies because of redundant resources that aren't always as useful as they should be, or at least are expected to be.
This usefulness, combined with the ability to output exceptional brand creative and strategy, plus the personal, friendly touch of a boutique agency has allowed Leverage to cultivate long, meaningful relationships with clients of all sizes.
Be Kind.
While I argue that being useful is rooted in empathy, that doesn't necessarily always mean that it's also rooted in kindness. I believe it should be, but it isn't always. Sometimes we have to give bad news. Sometimes we get frustrating feedback. Sometimes we have to explain things we don't want to or feel we should need to explain. Sometimes we're up all night to hit a deadline. Sometimes we have to repeat ourselves when we feel like we shouldn't have to repeat ourselves — again, and again, and again. Sometimes we have to disagree when we're convinced we're right. The challenge is doing all of these things with kindness. You can say you understand another person's perspective, but if you don't agree with it, it isn't always easy to reply with patience, understanding, and ultimately, kindness.
It's hard. Sometimes, it's very hard. However, we believe that treating others with kindness, no matter our frustrations or difficulties, is the only way to operate. In the end, it has proven to strengthen our relationships. We can disagree, but if and when we do, it's with respect and kindness. When you do that, the next time there is a disagreement, both parties are much more willing to listen, discuss, and make objective decisions that are best for the business. When you lose kindness, you lose control of your emotions, and in turn, make emotional decisions.
At the end of the day, we're always looking out for the best interest of our clients. We treat their business as our own. We treat our business with great care and we owe that to our clients as well.
Be Fearless.
In order to be useful, kind, and ultimately, to create really great work, we also have to be fearless and tackle our work with courage. As a boutique agency, we're challenged to find efficient solutions to complex problems. We have to be willing to try new things, to push the limits, to challenge the status quo and ask, "Is there a better way?"
That's hard to do. It's risky to do. You have to be smart and disciplined about where and how you allocate resources. However, when you get it right, it's worth the effort. Not only does this allow us to progress our skillset as individual designers, developers, and marketers, but it also improves the value of our agency, which ultimately translates to innovative, efficient solutions for our clients — a win-win-win for everyone involved. At the same time, we're further substantiating our promise of a true client/agency partnership through real-world actions that demonstrate our dedication to your best interest. The value in that is not quantifiable — in a good way.
At the end of the day, we love what we do because we love helping. Every single day, we come to the office and explore new ways of how we can help – how we can help each other, how we can help our clients, and yes, when we're feeling grandiose, how we can help the world through our work and relationships.