Marketing
2019 Marketing, Design + Technology Events You Won't Want to Miss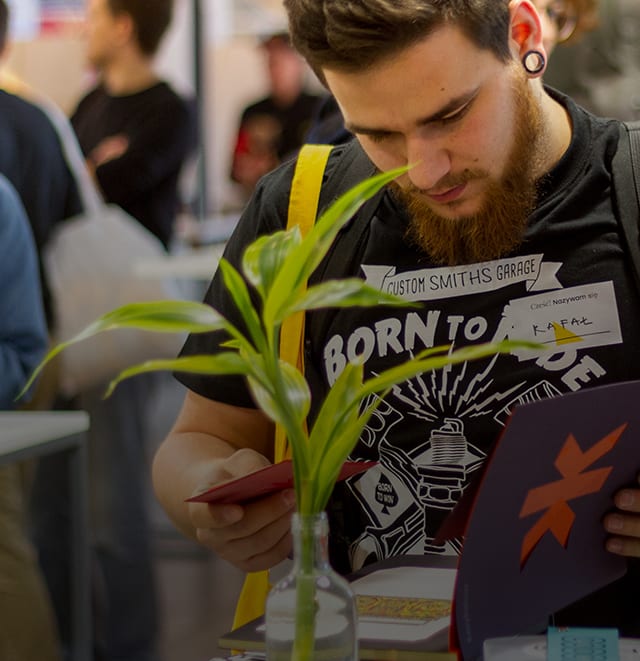 We're making a concerted effort to stay up on and attend more local industry events (and a few non-local) this year. It only made sense to put together a calendar of upcoming design, technology, marketing, and entrepreneurial events so we can keep them on our radar. And, we're more than happy to share that with you. 

We'll do our best to keep this updated throughout the year as more events popup. Do you know of an upcoming event that we've missed? Let us know and we'll get it added. We hope to see you around at a few of these and maybe catch up over a drink or two.
January
January 26, 2019
The Field House Museum
Cheree Berry, an award-winning graphic designer and owner of, "Cheree Berry Paper", will speak on the history of letter writing and snail mail. Her company has designed hundreds of wedding invitations and pieces for private, non-profit and corporate events.
January 26, 2019
The Lewis Center
Go behind the scenes to meet Sam Fox School MFA students in their art studios. View their work in progress (painting, printmaking, photography, sculpture, combined media, installation, and video) and ask questions. This is a free event!
January 26, 2019
UMSL, Anheuser-Busch Hall
A first time event put on by the St. Louis Google Developer Group and Women Techmakers St. Louis. It will be a day of talks about Google products, how to succeed in tech, and our community as a whole.
January 28, 2019
OPO Startups, St. Charles
Learn how WordPress works and get tips and tools you can use to get the most out of your WordPress site.
January 29, 2019
Central West End
Suzanne Magee, co-founder of TechGuard Security in 2000 and Bandura Cyber in 2013, speaks on cyber topics such as cryptocurrency and the Dark Web.
January 30, 2019
Centene Center for the Arts
Chat with Kim Oswalt and Joe Gfaller, marketing gurus at Opera Theatre of St. Louis about how to utilize free resources such as tracking URLs to measure success and the collaboration tool Airtable.
January 31, 2019
Venture Café St. Louis
Tyler Kelly, co-founder and Chief Strategist at SLAM! agency, will speak about where to invest your time and money, and what to leave behind in 2019. This is a free event!
January 31, 2019
50Fifty Kitchen
A panel of St. Louis digital experts discuss what digital trends are most likely to shape 2019. This is a free event!
---
February
February 12, 2019
Online Event: Meetaway
Connect with other UX Designers around the country to help one another build better products and experiences.
February 13, 2019
OPO Startups, St. Charles
Learn local search engine optimization strategies such as how to get your business on Google Maps, improve your search rankings through online reviews, and being listed on the right sites.
February 15, 2019
Danforth Center Auditorium
This is a collaborative event that will touch on topics such as rethinking your 'elevator pitch' and designing a future proof marketing department or advertising agency. At the end, you'll take an agency tour where you'll see how others are putting innovative ideas into practice.
February 18, 2019
KDHX
Join other young professionals in the advertising business for a night of reliving the highs and lows of the daily grind. Industry experts and startups will share some great stories and hash out the topics of the day.
February 19, 2019
SqWires Restaurant & Annex
Come and hear some of the best storytellers in the business recount their best advertising anecdotes.
February 21, 2019
SqWires Restaurant & Annex
Join the advertising industry's largest and most representative competition conducted annually by the American Advertising Federation.
February 23, 2019
Central Print
Hosting a variety of keynote speakers and workshops, the conference is a great opportunity for students to explore their creativity with design professionals from the local community.
---
March
March 8-17, 2019
Austin, TX
Join the world's largest gathering of creative professionals at the 2019 SXSW Conference & Festivals in Austin, TX–covering interactive, film, music, comedy, and gaming. If you've never been and have a chance to get away this is one you don't want to miss!
March 19, 2019
Centene Center for the Arts
Join Allyson Ditchey, founder of Connect the Arts, and Sheila Burkett, CEO of Spry Digital, for a conversation about the intersection of tech and art.
---
April
April 6, 2019
Pasadena, CA
Join one of the world's largest design conferences to network and learn from the industry's best creative professionals. From small breakout deep-dives on a mix of topics, to large main stage general sessions and a signature design competition, this is an experience you won't forget.
April 9, 2019
Eric R. Newman Education Center
The Midwest's premier forum to explore, understand, and influence the impact of Artificial Intelligence on our lives and businesses.
April 16-18 2019
Union Station
The largest digital marketing conference in the Midwest with over 130 speakers and over 100 sessions. Network and learn from the best in the industry.
April 23 2019
St. Charles Convention Center
This is the largest B2B expo in Missouri bringing together the brightest business leaders from companies throughout the St. Louis Metro area. This is a conference, trade show and networking event.
April 25 2019
Marriot St. Louis
250+ Missouri-based brands come together to share fresh ideas, solve problems, and make meaningful connections.
April 25 2019
America's Center
IT executives gather for a day of networking, collaboration, and knowledge-transfer through peer-led keynotes, breakouts, panels, and networking sessions. Keynote speakers include Alison Levin, a polar explorer and mountaineer, and Boaz Rauchwerger, an internationally known speaker, author, and consultant.
---
May
May 7, 2019
Ritz Carlton
Learn the latest IT trends and best practices leading companies have adopted, challenges they are facing, and solutions they are using to solve these challenges.
---
June
Date TBD
San Jose, CA
Thousands of developers from around the world gather to take part in over 100 technical and design-focused sessions presented by Apple engineers, hands-on labs, one-on-one guidance from experts, presentations from industry experts, and more.
---
September
September 14-15, 2019
Saint Louis University Busch Student Center
An indie game conference that celebrates unique games and the people who make them possible. Play games produced by local and national game creators, and enjoy diverse speaker sessions presented by industry professionals.
---
October
Date TBD
Various venues and agencies around St. Louis
A week where design industry professionals, entrepreneurs, local businesses, and students come together to share ideas and work–with more than 60 events including guest speakers, workshops, and agency tours.
---
Ongoing
Every Thursday / 3PM-8PM
4240 Building in the Cortex Innovation District
Once a week innovators and entrepreneurs gather for inspiring conversations and presentations.